May has a way of banging on my door, at Magnolia, that brings to mind debt collectors.  I have to smile to think of her thin frame delivering such blows to get my attention, lengthy as my residence is.  She chose just the wrong moment, as I was stepping into the shower.  Yes, I was packed and Payton had been provided for, but the spraying water meant May would endure several moments of silence, waiting on my front stoop.  Scrub faster, son.
Hopefully the size of my smile soon made up for my tardiness.  Throwing my bag in her backseat, I looked forward to the 3 1/2 hour road trip to Elmwood along I-55 that I knew so well.  "I am really looking forward to this," I confessed to May as she turned the ignition.
"I looked up Upper Iowa University," I mentioned many miles down the road.  It was one of her countless professorial possibilities, yet its obscurity had led to a Googling.  Perhaps surprisingly, (or not) the campus was nestled amid 1,330 souls, in the middle of Nowhere (already referred to as Iowa).  "You could be a Peacock!"  I exclaim.  She didn't seem to hear my mascot suggestion.  "Being away there, it would offer quiet meditation and introspection," she replied.  Clearly we were on different wave-lengths at the moment, so we turned to the radio, passing many other northbound La Salles or Dubuques heading for their own homelands.
The local flavors scanned over the Illinois FM dial were strange nutrition:  "…come to the Lord today, make that…," "…socialism failed the Pilgrims…,"  "…come to the Body, dear children."  Soon, however, we hit upon gold, an earnest song  of glorious schlockdom that liltingly implored, "Silver, blue and gold, colors of the sky, I'm told. Now, my rainbow's overdue."  "These lyrics are the worst!"  May sputtered between laughs, trying to keep the car on the road.
Fresh Market, a dream grocery in Peoria, has become our last trading post of choice before the western wilderness of my home county.  I set out for the ingredients for mashed potatoes, sensing I would need such comfort food, while May scoured for pie fixings.
Dad met us as we pulled up to the house.  My childhood home on Main Street seemed to have recently lost a fight. Twin paths of upturned lawn led from the street up an incline  to the front yard above.  An injured limb, having  hung ominously over the house for weeks, had just been severed from the majestic Soft Maple towering us.  The surgery seemed like just one of many more amputations that had stricken the neighborhood generally.
Dad, with myself trailing behind, found Mom in her room, who was characteristically dozing.  My sister Sonya, apparently just meeting the day at four in the afternoon, spent the next hour in the bathroom as we conversed.  Emerging finally from her room, Sonya began her soliloquy: "Hi!  I wanted to put on jeans, but they were downstairs in the dryer, so I had to put something on, so I put on these shorts.  I'm going to get my jeans now," she said by way of hello. "Okay," I said.  In the interim Mom reminded me again I needed to start thinking about going to teaching workshops for credits.
Yet I was excited to tell all about our recent multitude of small and medium adventures.  Seeing the film Lincoln, going to the Collinsville High School play John Lennon & Me, and finally our Hannibal trip to see the final performance of Hal Holbrook as Mark Twain.  "Did you ever hear about a Mark Twain story that involved him visiting a sick girl?"  I asked Mom.  She hadn't.  I spun the story of a Hannibal bed and breakfast that in another life was once visited by the non-impersonated Mark Twain to see a girl, who soon after died in that same room. And then, lost in telling this story of literature and history, with a wrinkle of the macabre, I topped it off with the declaration, "and we stayed in there!"
A giant, uncomfortable smile suddenly on my face, I turned to May.  "Well, uh, we toured a house where that happened, " she attempted by way of damage control.  We smoothly got through that one, separately thinking "whatever happened to the 21st century?"
"Time to eat soon?" suddenly asked Dad's raised voice from the next room and the comfort of his Queen Ann chair.  "It's only 4:30, Richard," Mom replied, yet went to the kitchen anyway.  May and I pitched in to help, May twirling four tortillas to crisp puffiness like a pro, while I chopped tomatoes.
The simple dinner's entrée's side dish was a surprising lack of conversation.  The prime topic was the kind of meat that would be served the next day, combined with Dad's new abhorrence of turkey, with another ten minutes that was preoccupied with pepper relish.  I began to plot a getaway that very night with May.
Luckily she needed a few last pie items.  I was thrilled to surprise her with a date (after cash could be gotten) at Farmington Pizza Company.  A warm booth, a fire blazing nearby, and general folksiness filled the air.  One of our greatest strengths is the ability to laugh at the zany, disregard the hostile, and focus of the essential wise lightness of our hearts.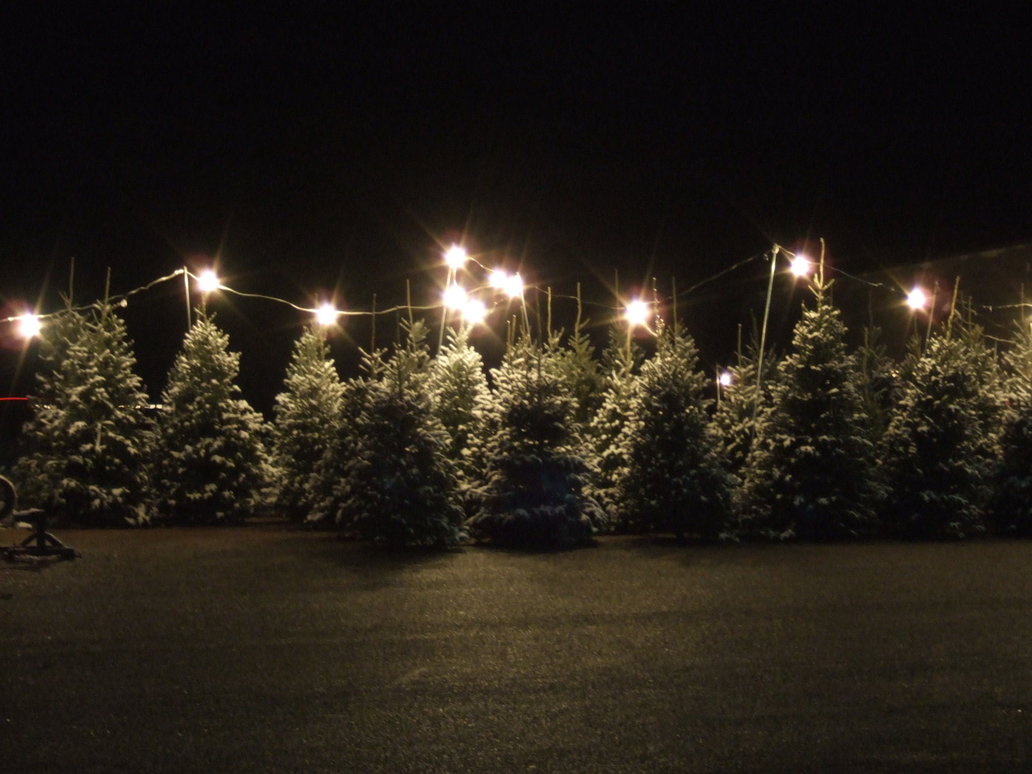 Before heading finally home after shopping, I noticed a small covered clump of Christmas trees for sale in the lot.  Curious of the prices I investigated.  Soon May braved the cold to be by my side.  Then I saw a whole new side to her.
In a soft, all-business tone she reeled off: "What kind of ornaments do your parents have?  Are they light or heavy?"  I guessed at an answer.  "In that case, you're not going to want the White Pine or Scotch pine, because they can't bare the burden of heavy ornaments.  What you're going to need is the Douglass fir."  It was as if a lumberjack had melded with a used car salesperson.  Amazing.
My night ended, suddenly, at the foot of May's (my) bed, done in by the comfort and warmth.  Hours later I was awoken to seek out my official resting place, the couch.
---
The second chapter of my off-kilter holiday trip home, "That Shit Is Raw" (A Carlson Thanksgiving), continues the stay.